Even if Sangeet Night is filled with outstanding performances from A-list celebrities, there is always one memorable dance with your father that deserves to go down in history. Even in the western world, it has become customary to celebrate your first dance with your partner. Yet, the father-daughter dance is a lovely way to celebrate your fresh start. These moments you spend with your dad are sure to be indelibly etched in your memory unlike any other. Whether you're swaying on the dance floor to a smooth song or flaunting your Bhangra and Gidda to the hip and happening songs.
Here are some of the top father-daughter dance songs that you can use to impress your father, or vice versa.
Dilbaro, Raazi
Dilbaro is a fantastic song for both your first dance with your father and your bridal entrance. Your family will undoubtedly become emotional seeing this father-daughter dance, which will be the ideal tribute to your father.
Tu Jo Mila, Bajrangi Bhaijaan
The song Tu Jo Mila is one of the best in the Bajrangi Bhaijaan soundtrack. The feel is heartwarming, the music is gentle, and the lyrics are nice. The newest song on this blog is also this one. This would be a good option for you if you want a father-daughter dance from a fairy tale that builds gradually and crescendos at the end of the song.
Tujhko Na Dekhun, Jaanwar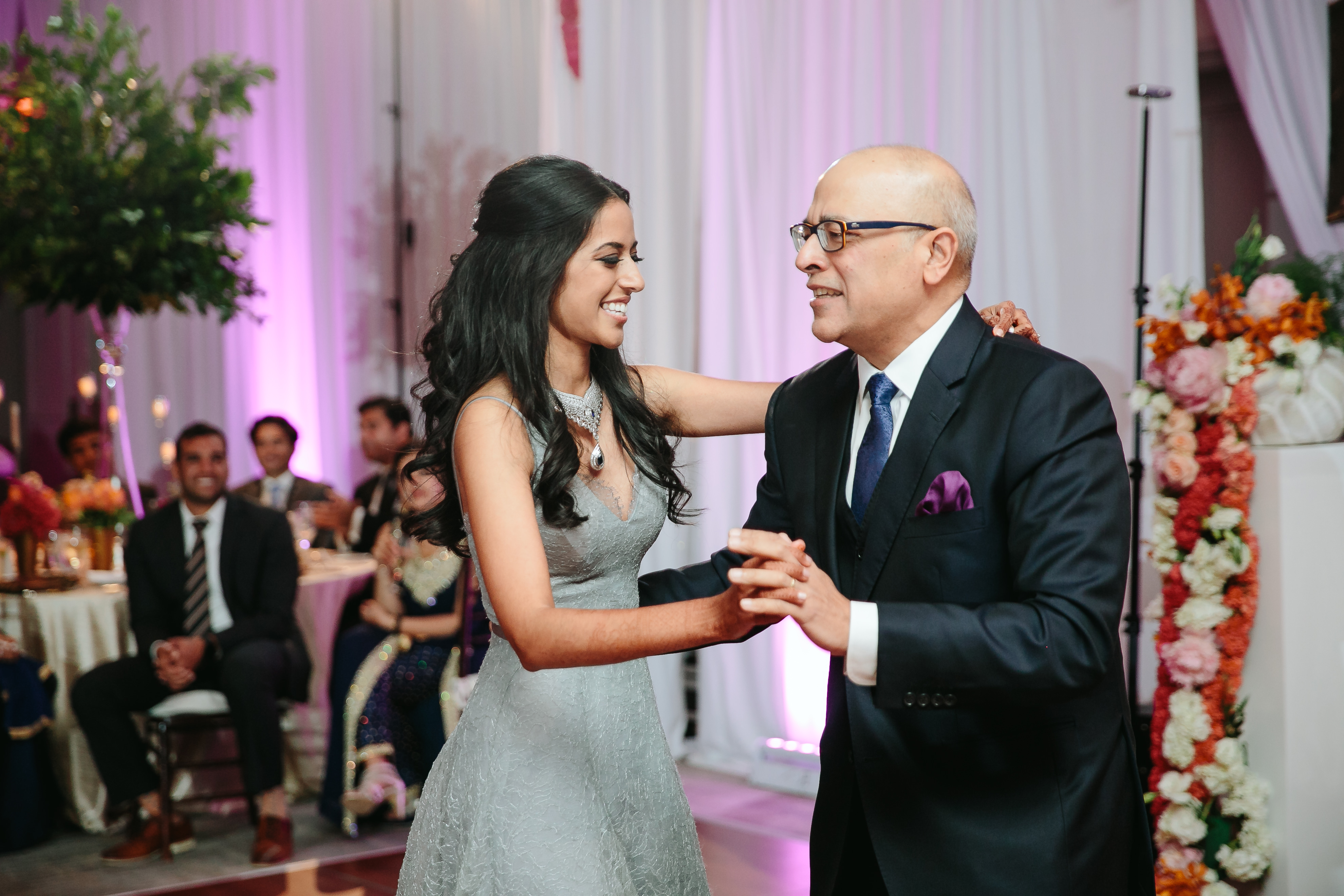 A timeless Bollywood song from the 1990s is the last song on the Top 13 Indian Wedding Reception Father-Daughter Dance Songs list. This song may be appropriate for you to select for the father-daughter dance if both you and your father are fans of Bollywood.
Ghungroo, War
Your dad enjoys dancing, right? If so, be sure to include this on your father-daughter dance song playlist for your wedding! Create a dynamic performance around this, and don't forget to enjoy yourself with your dad!
Gud Nal Ishq Mitha, Ek Ladki Ko Dekha Toh Aisa Laga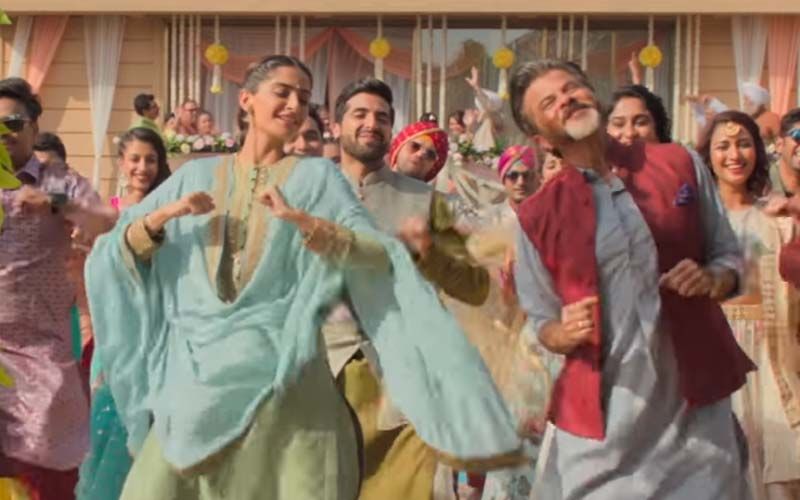 This is one of the best father-daughter Hindi songs for the hip and trendy parents in the family! For the father, the wedding of your daughter is one of the happiest occasions of all, and Gud Nal Ishq Mitha is the ideal song to help him express his joy appropriately. When the song started playing in the movie, do you recall how Anil Kapoor showed off some incredible Bhangra moves? Make sure your beloved father is prepared to burn up the dance floor.
Meri Duniya Tu Hi Re, Heyy Babyy
This song is perfect for fathers and daughters to dance to because it has everything a parent would like to tell their daughters. Include this towards the end of your playlist for your father-daughter dance Hindi song for a nice conclusion.
Mere Babula, Jawani Jaaneman
This Hindi song about a father and daughter would appeal to the appropriate people. Both you and your father are experiencing strong emotions as they prepare for the wedding. This song will just intensify your feelings because it is one of the biggest decisions of your life. To make the father-daughter dance on stage great, make sure to get the dance right or get a choreographer. This father-daughter dance song has an emotional undertone, unlike the majority of father-daughter dance songs in Hindi.
Mai Khiladi Tu Anadi, Mai Khiladi Tu Anadi
This song is ideal if you and your father are great friends and you want to dance to a father-daughter song that captures it. Also, your dad will enjoy dancing with you to this classic 90s tune!
Tera Yaar Hu Mai, Sonu ki Titu ki Sweety
The majority of you might choose this song for the groomsmen's dance, but if the bride's father is also her best friend, there is no better music for a father-daughter dance than this one. It's a slow melody that allows you to drift off into the night. You and your father will undoubtedly remember all your "partners in crime" moments while dancing to this tune.
Babul, Neha Bhasin
At the sangeet ceremony, let your feelings run wild. For a modern performance and to show their spouses how much they mean to them, many brides choose a Kailash Kher song. Keep your act with your father sweet and understated. The father-daughter dance will be wonderful and unforgettable thanks to this lovely ode of a song. You will undoubtedly shed joyous emotions as you glide over the stage while holding your father in your arms and wearing a stunning lehenga for Sangeet or a gorgeous gown.
London Thumakda, Queen
Without dancing on the London Thumakda, a wedding isn't complete, right? A nice father-daughter dance song in Hindi for your wedding is this one. This song should be included in your playlist if your dad has two left feet since the beats will get him moving!
Maine Tere Liye, Anand
Does your father enjoy listening to classical music? If so, he will enjoy joining you on your wedding day for this romantic song from the film Anand. This song's lyrics also make it a fantastic father-daughter dance tune for your wedding.
Mahi Ve, Kal Ho Na Ho
This father-daughter duet in Hindi, another classic desi wedding song, is still a smash favorite for sangeet performances. Help your favorite father practice his thumkas while wearing the sherwani so that you can dazzle everyone with a breathtaking father-daughter dance when this song comes on. Also, this is among the best wedding songs from Bollywood, as SRK lovers will concur. Make sure your choreographer is enthusiastic about teaching you the well-known Hindi dance movements from this father-daughter song.
Father's Day Special Mashup, Shriya Jain
Many brides may desire to relive their playful moments with their fathers by singing "Papa Kehte Hai Bara Naam Karega," but they may hesitate since it might not be the ideal fit for them. If you're one of those brides, artist Shriya Jain is here to help with a reworked and unplugged mashup of the feminine versions of your favorite father-daughter dance tunes.
Cutiepie, Ae Dil Hai Mushkil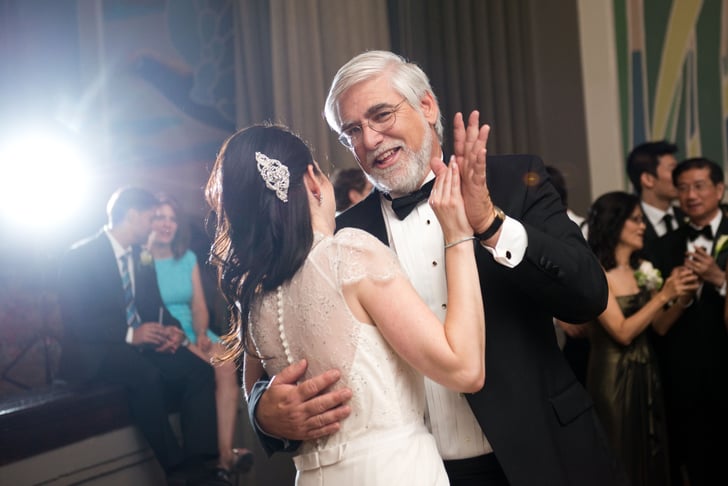 The brides are undoubtedly their fathers' sweethearts, even though the song is not among the best father-daughter dance songs in Hindi on the list. One of the most often used songs for the Shaadi dance sequences is from the film Ae Dil Hai Mushkil. During your Sangeet performance with your father, you should use the opening of this song as part of a medley or mashup of other songs.
Some English Songs For Father- Daughter Dance List
For their father-daughter dance, many millennial brides have picked fantastic country music or even blues. The best tracks are listed below for you.
Forever Young, Rod Stewart
There is a lyric in the song that reads, "And when you finally fly away, I'll be hoping that I served you well/For all the wisdom of a lifetime, no one can ever tell/But whatever course you pick, I'm right behind you win or lose." One of the best dad songs you can choose for your first dance is this English father-daughter dance tune. In addition to being a well-known father-daughter dance music for weddings, women have also chosen this timeless tune for their sweet 16 dance.
Daughter, Loudon Wainwright III
One of the best dad songs for a father-daughter dance performance, as evidenced by the song's title. The question that many fathers ask is, "What music would be ideal for my daughter?" Here is a timeless song by Loudon Wainwright III that captures the loving relationship between a father and his daughter. You can quickly select this father-daughter dancing music and use the melodies to express your affection for your cherished daughter.
Lean on Me, Bill Withers
The strongest support in our life comes from our fathers. We can rely on our fathers at every turn of our lives. Lean On Me by Bill Whithers is a song that is perfect for your father-daughter dance since it will always be there to lean on, whether it's the good or the terrible days.
Bruce Springsteen's - When You Need Me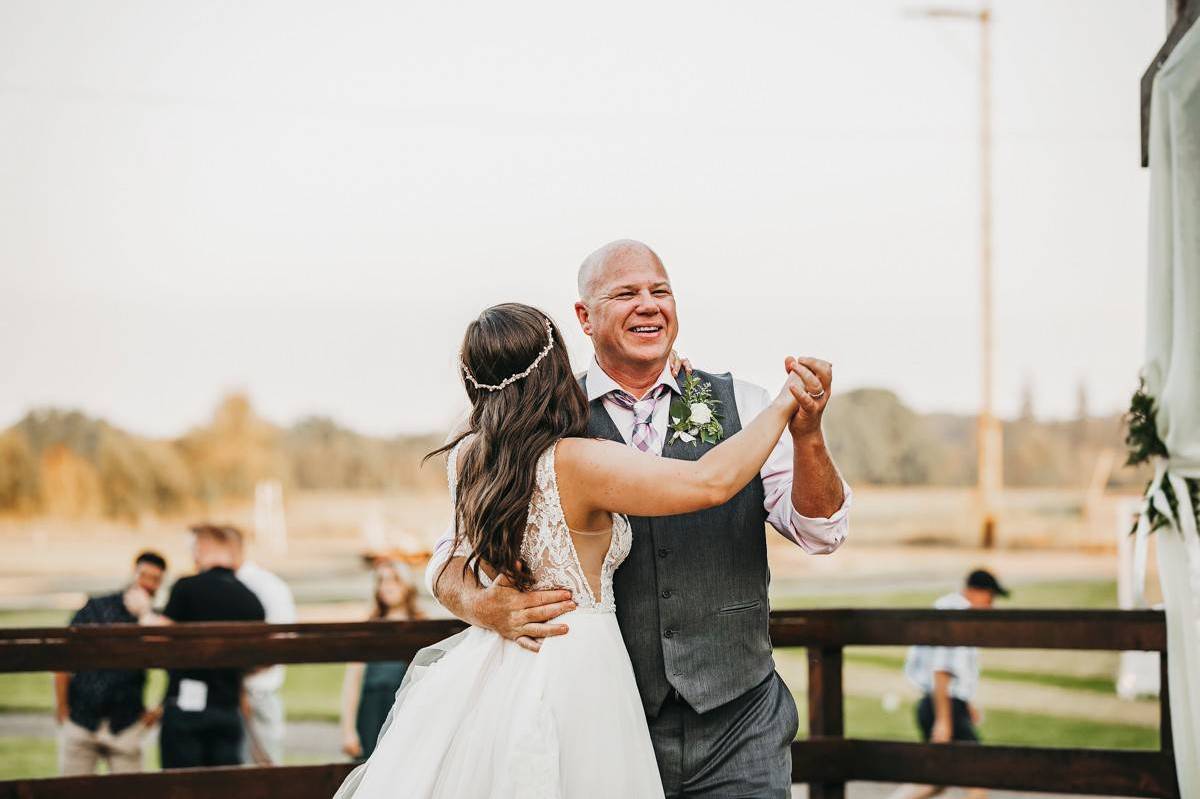 Here is a song that can make your father-daughter dance in a way that is both unique and mesmerizing, making it the ideal way to let the daughters know that their fathers are always available.
Butterfly Fly Away, Miley Cyrus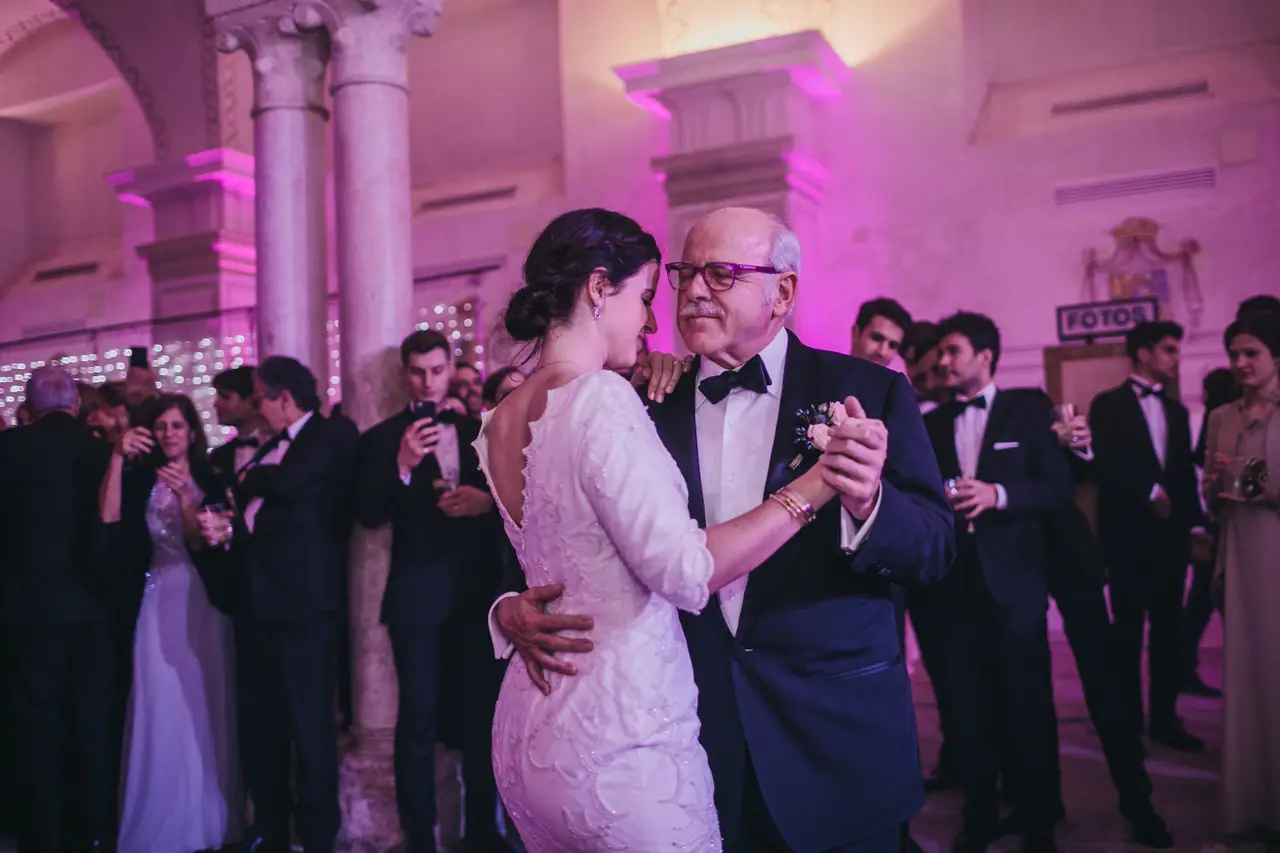 How many of you remember the scene where Billy Ray Cyrus asks Miley what the song is about in Hannah Montana the Movie? She then informs her father that it was about them, her, and him. This song's lovely melody supports and honors the bond between a father and daughter. This father-daughter dancing music has the power to instantly transport everyone to happier times.
What a Wonderful World, Louis Armstrong
By the lyrics of this song, Louis Armstrong has worked his spell. This is one of the best dad songs for dance performances, whether it be your first dance, a sweet dance performance with your father on your birthday, or even just a random sweet dance with your dad. The world is a little bit more amazing thanks to the song's mellow, calming melody!
Father's Eyes, Amy Grant
The best songs are those that make you cry and make you happy during the evening. In reality, if you are seeking the greatest dad songs or your dad is looking for the "best songs for my daughter" then the song Father's Eyes is going to be an outstanding selection for the first father-daughter dance song.
Michelle, The Beatles
This song's melody is quite hep and has a jive to it. Because let's face it, it's The Beatles, it's not just one of the best father-daughter dance songs, but it also makes for a lovely classic that will enhance the delights of your wedding.
Dance with My Father, Luther Vandross
The best father-daughter dance music is Dancing With My Father by Luther Vandross, which is also one of the most frequently chosen father-daughter dance songs used at weddings. On the dance floor, swaying will cause the magic to manifest.
My little girl, Tim McGrew
The strongest people are always fathers. It's incomprehensible the feelings they suppress to make things appear simple and flawless. One of Tim McGraw's songs, My Little Daughter, expresses his deepest emotions most directly. To commemorate your first father-daughter dance before the wedding, this is undoubtedly a lovely song. You know that when you dance the waltz on the dance floor with your dad, your closest relatives will feel it in their bones.