Are you looking for an idyllic and luxurious getaway in the heart of nature? Corbett Tiger Resort in Ramnagar, Uttarakhand is the perfect destination. Located within Jim Corbett National Park, this resort offers a truly unique experience. A major event like your wedding would be ideal at Jim Corbett's luxurious Corbett Tiger Resort. This ideal wedding location is spacious, cosy, and equipped with first-rate amenities. They offer full event support for all of your wedding-related ceremonies and events. You may be certain that each engagement with them will be unique due to their top-notch offerings. This ideal wedding location is a great option for your wedding because it can accommodate both a spectacular and a basic, understated event. While providing a magnificent hall, the vibrant and modern Corbett Tiger Resort nevertheless embodies the friendliness and culture of India. The options are much above the minimum requirements set by the caterer and the venue. These services would all be customised to fit your needs, wants, and financial restrictions. For booking, this fabulous resort in your budget connects to the best wedding planner in Lucknow that is Event Planet.
Area of Attraction
Corbett Tiger Reserve in Ramnagar, Uttarakhand is one of the most beautiful and serene places to visit. There are plenty of things to explore here including Corbett Museum, Corbett Waterfalls, Dhikala and Garjiya Devi Temple.
Corbett Museum
The Corbett Museum which was established in 1994 displays several photographs related to Jim Corbet's life as well as his hunting trophies. It also has information about various species found at the reserve such as tigers, elephants, leopards etc., making it an ideal place for nature lovers who have an interest in wildlife conservation efforts made by Jim Corbet himself.
Corbett Water Fall
It is another amazing attraction located near Kosi River where you can take a dip or just relax beside its cascading waterfalls surrounded by lush greenery all around – perfect for those seeking peace and tranquillity away from the hustle and bustle of city life!
Dhikala
This reserve's most well-liked tourist destination offers breathtaking views of vast grasslands and forests home to wild animals like tigers and deer. Visitors can also take safari tours here if they so choose. In addition, there are a variety of activities offered, like stargazing while sleeping under the stars or bird viewing along with guided hikes through lush vegetation, that will make your trip unforgettable.
Garjiya Devi Temple
Dedicated to Goddess Ganga - situated atop an elephant-shaped rock formation near Kosi riverbanks; this temple attracts devotees from far corners looking for spiritual solace amidst natural beauty surrounding them while offering prayers at the holy shrine inside the complex itself! All these places combined make up an incredible experience that awaits anyone visiting this paradise called 'Corbett Tiger Reserve'.
Facilities and Capacity
A group of up to 100- 2000 people can be accommodated in one of the banquet spaces that Corbett Tiger Resort offers for events. They have a magnificent and roomy banquet space where you may host your loved ones and have the most memorable wedding ever. Additionally, the venue has incredible interiors that create a lovely atmosphere for all of your ceremonies and provide you with the best wedding experience of your life. They also provide a range of amenities, such as fundamental lighting, electricity, and backup, to ensure a smooth event flow and give you the wedding of your dreams.
Some of the facilities provided by the Corbett Tiger Resort in Ramnagar are:-
Conference Hall
Reception Hall
Activities Hall
Kids Area
Swimming Pool
Trekking
Restaurant
Jungle Safari
Garden Area
Lawns and Halls
Services Provided
The team of chefs creates both vegetarian and non-vegetarian cuisine and traditional Indian cuisine to ensure that your festivities run smoothly and that you have the greatest wedding possible. You may find a variety of facilities, from north to south Indian, all under one roof, and the use of all the dishes are amazing. You have a variety of alternatives for all of your wedding ceremonies, including pre-and post-wedding events. Their main objective is to make your wedding a seamless occasion that becomes the talk of the town. Corbett Tiger Resort provides you with a wide selection of services from which you may select by your needs and preferences, making it the perfect location to host all of your wedding events in the most professional manner. They offer a variety of customised services, which are detailed below:
Basic electricity, lighting, and backup
Indoor Setting Area
Alcohol sold according to packages
Menus for fusion food
In House Decoration
Big Beds
Room Breakfast
Free Drinks
Decoration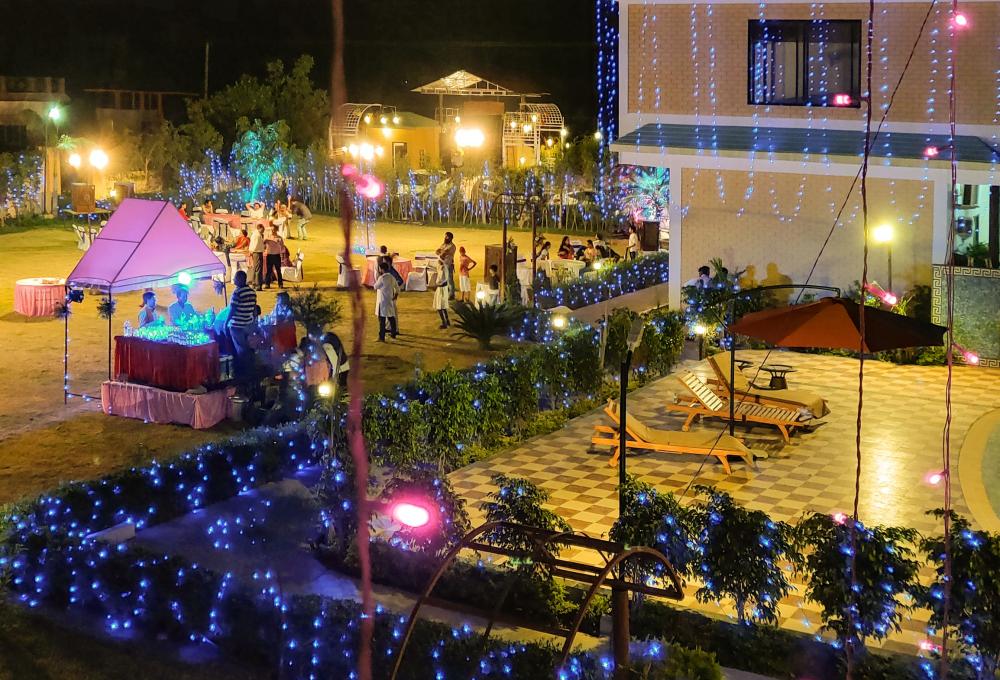 When it comes to decoration, Corbett Tiger Resort has no equal! The rooms are tastefully decorated with modern furniture that adds a touch of elegance to your stay. The lobby features beautiful artwork from local artists that creates an inviting atmosphere while providing guests with a glimpse into the culture of Uttarakhand. Additionally, each room includes amenities such as air conditioning and cable TV so you can relax after exploring all day long! For weddings, they also provide in-house decorators or you can have one of your choices. And if you want the best decoration then connect Event Planet to the best wedding planner in Lucknow.

Catering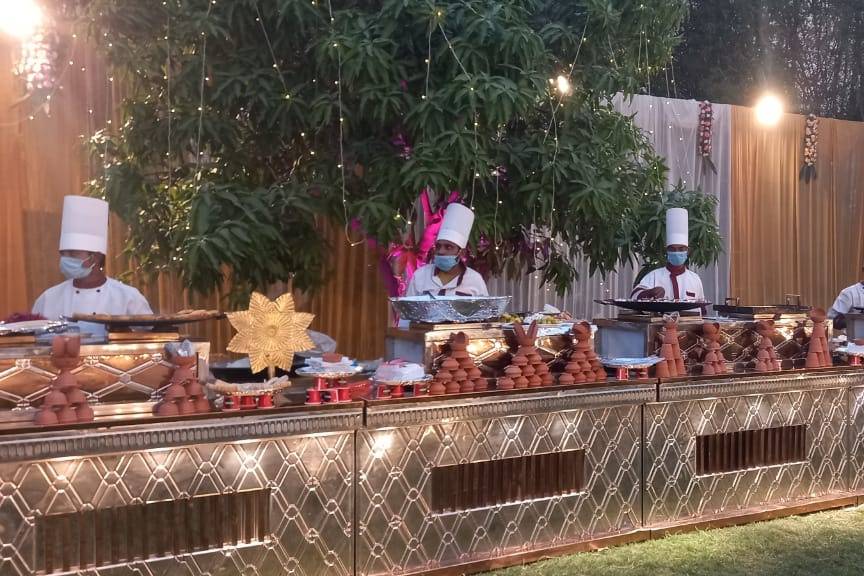 The food at Corbett Tiger Resort in Ramnagar is simply delicious! With both vegetarian and non-vegetarian dishes available on their menu there's something for everyone here. From traditional Indian cuisines like dal makhani or butter chicken to international favourites like pasta or pizza – they have it all covered! Plus their chefs use fresh ingredients sourced from local farms which makes every meal even more special. They have an Inbuilt restaurant and provide In house catering service too. And the best wedding planner in Lucknow, which is Event Planet, has the best chefs which can enhance your wedding events.
Parking
There's parking at this resort which ensures convenience when travelling by car or bike – making life easier during your stay here! Whether you want to spend time relaxing amidst nature or explore nearby attractions such as Garjiya Devi Temple; make sure you book your trip soon because this place won't disappoint!!
Lodging
When it comes to lodging, Corbett Tiger Resort in Ramnagar has something for everyone. Whether you're looking for a romantic retreat or a family vacation spot, they offer accommodations that are both comfortable and affordable. From cosy cottages tucked away in the jungle to luxury villas with breathtaking views of nature – there is truly something special here for every taste and budget. Plus their staff will make sure your stay is as pleasant as possible by providing personalised service from start to finish so that all your needs are taken care of during your time at the resort! The two types of cottages Corbett Tiger Resort in Ramnagar provides are:-
Jungle View Cottages
Garden View Cottages
Venue Policies
Another great feature about staying at Corbett Tiger Resort is their venue policies which ensure guests have an enjoyable visit without any worries or concerns about safety or security matters while onsite.
All guests must abide by rules established by management including no smoking inside buildings/rooms.
Keeping noise levels low after 10 pm.
Proper disposal of garbage.
Not disturbing wildlife habitats around them etc.,
These regulations help keep everyone safe while still allowing visitors plenty of freedom when exploring all that this incredible location has to offer!