Do you care about sustainability? It should be a daily priority rather than something you do only when it's convenient.
Living sustainably might be challenging on your wedding day, among other occasions. Many people make an effort to live environmentally responsible lives throughout the year, but they don't want to compromise on their most significant day. Fortunately, having an eco-friendly wedding is feasible. Using eco-friendly dresses and accessories is one of the most crucial things you should do.
Eco-Friendly wedding accessories
Now that the big day has arrived, what kind of accessories are required? Is it possible to employ eco-friendly wedding accessories to reduce your carbon footprint?
Every bride-to-be aspires to appear stunning on her wedding day. It's crucial to prepare your entire bridal attire from top to bottom. The first decision is the style of the bridal dress. Choose the fabric, the design, the cut, and the finishing touches. It's time to consider the final touches once you've decided on the wedding dress of your dreams. You must keep sustainability at the forefront of your thoughts throughout the entire process. Keep in mind that there are other considerations as you proceed down the aisle. A veil and other accessories, such as jewelry, should complement the dress as well. You undoubtedly want to look your best since this is your wedding day.
To save you from rushing around at the last minute, here is a list of everything you'll need to adorn your eco-friendly wedding dresses and accessories. You'll discover some suggestions for eco-friendly wedding accessories. Keep a close eye on this list to make sure you don't forget anything for the celebration.
Shoes
Wedding shoes shouldn't match the dress; they should enhance it. You should choose a pair of eco-friendly wedding shoes that look excellent and feel good because you'll be wearing them on an eco-friendly wedding day. It's a wise idea to choose your wedding dress before your shoes. You'll be able to determine how high of shoes you can wear given the form of the dress this way. Thankfully, there are many excellent eco-friendly wedding shoes available for purchase. If you are going for an eco-friendly wedding.
Handbag
A clutch or purse can serve more purposes than just adding style to your wedding attire. You can't rely on them to hold your phone while you make a call or your lipstick while you touch up your makeup. A clutch that complements your wedding dress is not only a gorgeous addition, but it also serves as useful storage for your necessities. Pick your eco-friendly handbag after you've made up your mind on your dress and shoes if you want everything to match flawlessly. Make sure to only buy handbags after choosing your wedding dress so that they go with your attire. If you are organizing an eco-friendly wedding then choose an eco-friendly handbag made-up of different eco-friendly materials which will suit your eco-friendly wedding dress and eco-friendly wedding theme.
Hair Accessories
Brides adore accessorizing their magnificent locks with ornate hairpieces to complete their wedding day style. The eco-friendly hair accessories of contemporary brides might range from veils and clips to flowers and crowns. Using creative hair accessories, you may show off your personality through your hair on your wedding day.
Fortunately, a lot of the most popular eco-friendly hair accessories are available. It's a tradition for many brides to use floral crowns or pins. Orchids and other fresh flowers are a beautiful addition to a wedding dress. Adding seasonal flowers will make you appear stunning for a summer or beach wedding.
Jewelry
You should at the very least think about wearing jewelry at your wedding. It is absolutely up to you how much clothing you wear. The earrings, ring, bracelet, and necklace are a bride's four most essential pieces of jewelry. Select eco-friendly jewelry that goes with your unique tastes and sense of style. Outside of conflict zones, it is possible to find some ethically produced gold jewelry. There are also bracelets and other accessories produced from sustainable materials and natural stones.
With the addition of a striking necklace, even the most understated dress may achieve red-carpet status. To select the one that best complements your style, experiment with various cuts, hues, and patterns, or stack it with gold chains.
They make an excellent accessory for events like weddings and parties when you don't have to worry about your appearance. You'll be the center of attention all night long if you finish the look with some eccentric sunglasses or a pair of dramatic earrings!
Finding eco-friendly wedding rings is a fantastic way to reduce your carbon footprint with a very significant investment!

Eco- friendly Wedding dress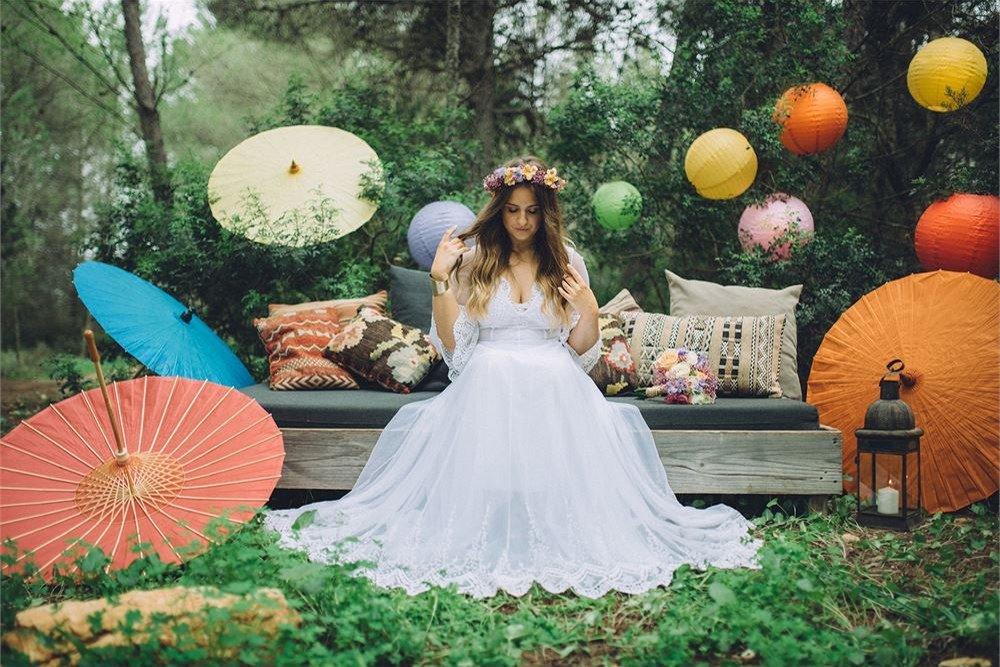 One of the most important pieces of clothing you will wear on your wedding day, along with the complementary eco-friendly wedding accessories you select, is your eco-friendly wedding dress. They should be stylish and classy in addition to fitting well and looking nice on you. The bride's wedding dress must fit well and look beautiful because it should symbolize the union.
Purchase a used wedding dress
Purchasing a used wedding dress is among the simplest ways to go eco-friendly with your attire. Reduce your wedding waste all at once and get the Eco-Friendly Wedding dress of your desire for less money!
Buy environmentally conscious brands
If buying used isn't your thing, pay close attention to some eco-friendly designers.
Opt for textiles that have low carbon emissions
Shop at stores like Reformation that strive to reduce waste and use eco-friendly technologies. Reformation has sustainable business and production practices.
Rent a wedding dress
Perhaps renting your wedding dress is an option you'd think about if you don't like the notion of spending money on something you'll only wear once.
Shop locally to save money on unreasonable overseas shipping costs and waste
Consider purchasing a wedding dress locally to reduce unnecessary wedding waste rather than obtaining one from abroad. Another fantastic method to reduce needless packaging and transportation emissions is to shop locally rather than online.
After the wedding, resell your bridal dress
Maybe you'd like to sell your wedding dress to another bride to wear once the ceremony is over. Give a less expensive stunning wedding dress to another woman and reduce wedding waste in the process!