Are you looking for a perfect wedding venue in Lucknow? Look no further than M.J. Fun City on Kursi Road! Not only do they provide an amazing setting for your special day, but they also offer some great services to make sure that everything goes smoothly and according to plan.
The M.J. Fun City in Lucknow is a great site to entertain and welcome friends and family for a variety of events, including pre-wedding activities, lavish weddings, lavish receptions, and other similar celebrations. This perfect wedding venue in Lucknow features a wide, hassle-free lawn that is beautifully green and can accommodate a large gathering. MJ I. B. Public Inter College is close to Fun City Lucknow Comforts.
The staff at M.J. Fun City, Kursi Road, Lucknow, is dedicated and welcoming. For the event, this best wedding venue offers its caterers and decorators. This location offers both vegetarian and non-vegetarian menus, so you can choose that option if you want to outsource your preferred caterers.
All visitors to M.J.Fun City in Lucknow are provided with a relaxing staycation. Any form of celebration works well here, and the staff takes care of all the details of your event expertly. The entire event will be sincerely appreciated and enjoyed by your guests.
Facilities and Capacity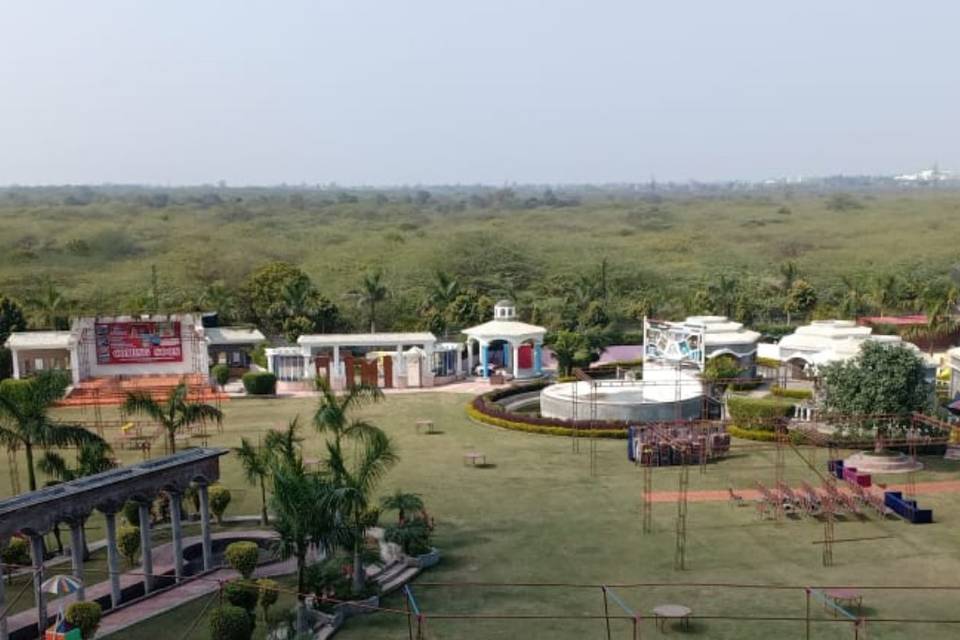 M. J. Fun City offers a wide range of wedding packages to suit your needs at competitive prices. And Open lawns are available to you at M. J. Fun City & Resort, and they can comfortably hold a guest list of 1500 people at once. They also provide you with guest lodging options at their location. You can reserve 100–200 rooms at their site to accommodate all of your wedding guests.
For the enjoyment of their visitors, they offer an in-house sound system, a DJ, and a drink service. Additionally, they provide a sizable parking area for all of your guests' cars and also have on-site valet parking services at their venue. To make sure that your special day runs smoothly, their experienced event coordinators will help you plan every detail from catering to decorations – all while staying within budget! If you are talking about budget then Event Planet known to best wedding planners in Lucknow is available for your service.
For your event, M. J. Fun City & Resort offers a variety of venues and amenities from which you can pick. The following is a list of the customizable services they provide to their clients:
Basic electricity, lighting, and backup
Parking service
Furniture
Guest Accommodation
Service personnel in the bridal room
In-house caterers
In-house decorators
DJ
Air-conditioning,
Audio-visual equipment rental options (including microphones)
Stage lighting setups
Reception Hall
Conference Hall
Activity Area
Kids Area
Services Offered
The hospitality staff at M. J. Fun City & Resort handles all the arrangements so you don't have to worry and can simply sit back and take it all in. Additionally, they provide you with in-house catering services that can meet all of your needs and requirements while staying within your budget. The wedding guests can enjoy delectable vegetarian and non-vegetarian dishes from a variety of cuisines. Their team of in-house chefs creates mouthwatering meals from north to south Indian cuisine so that you have the most memorable dining experience of your lives.
Catering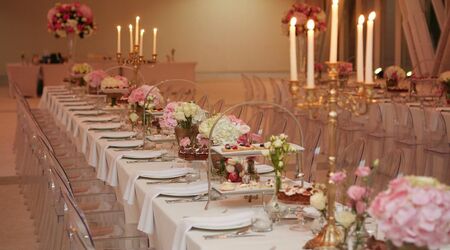 When it comes to catering, M.J. Fun City has got you covered with its delicious menu options and experienced staff who will ensure that all of your guests are well taken care of throughout the event! They can accommodate any dietary restrictions or preferences so everyone can enjoy the food at your wedding function without worry or hassle - plus, their mouth-watering dishes will leave a lasting impression on all of your guests' taste buds! This best marriage lawn provides a range of both vegetarian and non-vegetarian dishes. They are also able to organize beautiful gala and semi-gala dinners for your guests. They offer customized menus based on the preferences of each couple so that everyone enjoys delicious food tailored specifically to them!
The type of dishes this best wedding venue offer contains cuisines like;
North Indian
South Indian
Continental
Italian
Chinese
Mughlai
Rajasthani
Gujarati
Desserts
Beverages
Garlic-free and onion-free alternatives
Indian street food and chat
Decoration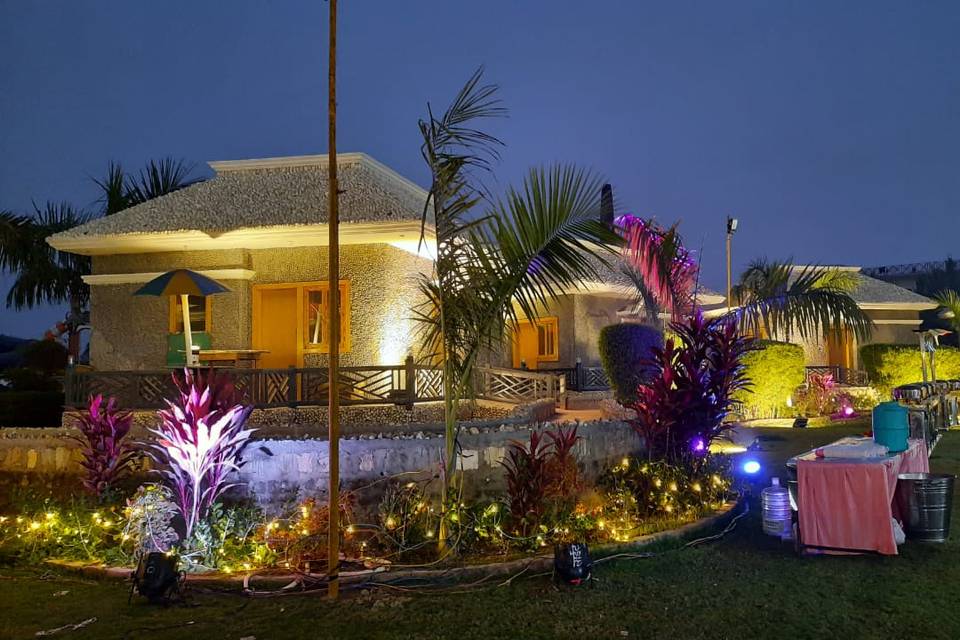 If wedding decorations are what you're after then look no further – M. J. Fun City offers stunning decor packages tailored specifically to meet each couple's individual needs and desires so that every detail is perfectly executed just as planned! From floral arrangements and table settings to lighting effects – they have it all covered so there's nothing left up in the air when it comes time for celebration time arrives at last! They also allow outside wedding decoration if you want it's up to you.

Lodging
Their onsite lodging facility offers comfortable rooms with modern amenities such as air conditioning and free Wi-Fi access so that guests can relax in style after the festivities are over. The hotel staff is extremely friendly and helpful too – always ready to answer any questions you may have about their services or the area around them.
Other Room facilities provided by the M. J. Fun City are;
LED TV
In-room Breakfast
Dry cleaning
Free Toiletries
In-room dinner
USB Port
Comfortable beds
Alcohol
Alcohol is strictly prohibited by this best wedding venue. It is not provided by the venue as well outside alcohol is banned. You will be fined if you are found to consume alcohol on the venue premises.
Parking
Ample parking space is present at this best marriage lawn. They also provide valet parking for your and your guest's comfort.
Venue policies
This best wedding venue has some strict guidelines when it comes to policies which include
No outside food allowed inside premises except cake cutting.
Alcohol consumption is not permitted.
Smoking areas are designated.
Music should not exceed a decibel level.
Children must remain under adult supervision at all times etc.
To ensure safety and security during events held here, their management team meticulously enforces all of these rules.
So what are you waiting for? Contact us today if this sounds like just what you need to make sure that every detail about your big day goes off without a hitch - we as the best wedding planners in Lucknow guarantee it'll be one eventful celebration that nobody will ever forget!